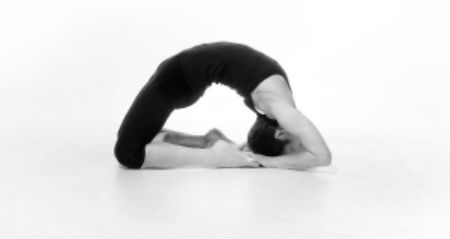 Laurie Greene, PhD, E-RYT, YBR
DIRECTOR
A PhD in anthropology, Laurie has practiced yoga since age 15, having grown up in a "yoga family".  Since then, yoga has become her healthy addiction.   Always an enthusiastic student, Laurie combines her training in a variety of classical "hatha" traditions, bringing insights and techniques from all these to her eclectic teaching and practice.  Training extensively in the Iyengar tradition, emphasis is on safety, technique and proper alignment so that students will get the greatest benefits from their practice, and easily experience the joy that yoga affords every fitness level.  Laurie is also certified in Vinyasa flow and is registered with the Yoga Alliance as an "experienced teacher" and trainer.
Her continuing exploration of classical and newer interpretations of Astanga Vinyasa have led her to study with many amazing teachers; and to all of them she is forever grateful.  The studio has become a place where many of these and new teachers gather and continue to inspire. Having completed her 500 hour certification with the wonderful Edward Clark & Elizabeth Connelly, Laurie's passion lies in blending many styles into a practice that is instructive, creative and fun. Laurie is the proud parent of three grown children!
Luisa Cilurrzo, RYT
Luisa took her first Yoga class few years ago and knew that her life was going to change. Her professional path leads her to the worlds of Quality Assurance but her heart and spirit drew her to Yoga. The practice of Yoga was at first a starting point for self discovery during a hardship of life transformation. Yoga helped her bring clarity to her life and inspired her to self growth. Luisa wanted to learn more about Yoga and how to help people find serenity and bring balance to their life. She focuses on melting technique with a rhythmical flow. Her focus is to empower students by building their confidence in the approach of the asanas and to practice with passion and enthusiasm by creating a serene and warm environment. Luisa studied with Laurie Greene to obtain her 200 hour Yoga Certification and continues to practice with Laurie and also studies Iyengar Yoga with Michele Franey in her life long journey of self discovery.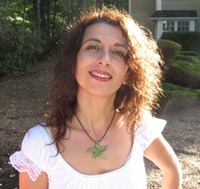 Pamela Brantley Lewis
A yoga practitioner for the past ten years, Pamela believes strongly in all forms of bodywork as part of a path to a healthy, happy body, mind and spirit.  Her interest and ongoing studies in metaphysics, Reiki, therapeutic yoga and mind-body psychotherapy* has all lead Pamela to teach yoga, with a concentration in Yin Yoga. Yoga Nine has always been her home base studio, completing her teacher training under Laurie and intensive workshops with other great guest instructors. Her pedagogy focuses strongly on techniques in chakra opening and balancing, and mindful meditation.  She believes the practice of yoga has a place in everyone's life. They have only to discover it.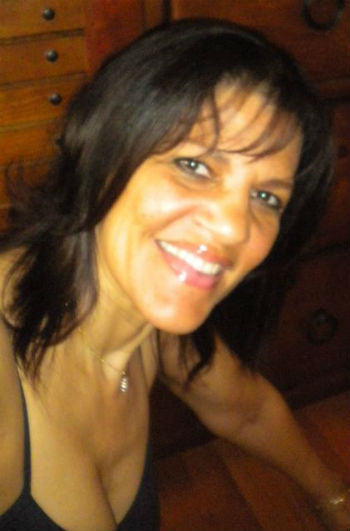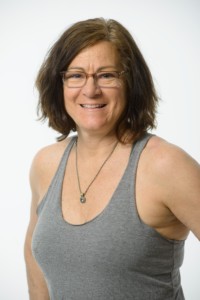 Joyce Glick, P.T, MHS
A graduate of Thomas Jefferson University, Joyce has worked in the physical therapy* field for over 25 years.  A life long athlete, Joyce has found Yoga to be the perfect total body challenge.  Joyce completed her 200 hour certification with Laurie Greene at Yoga Nine Studio in Smithville. She is excited to combine her knowledge of the musculoskeletal system and functional movement patterns with the mind-body connection of Yoga.  Helping others experience yoga in a safe and fun environment is Joyce's main goal in teaching and engaging newcomers to this wonderful and rewarding practice.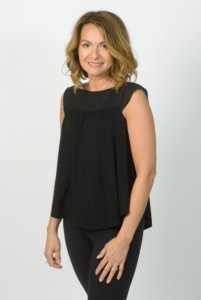 Rebeca Mattiello, RYT
Drawn to her first yoga class by rumors of its' healing capabilities and a quest to develop a healthy relationship with her body she was surprised to discover a profound sense of stillness that had previously eluded her. She immediately knew that she had to devote herself to learning all she could about this practice and that she had to share it as well. The deep connection was instant and solid. She is dedicated to providing direct and vivid instruction while focusing on movement with breath and proper alignment. Her classes foster an atmosphere of encouragement, honoring students as they are while inspiring them to grow in a light hearted environment. Her mantra is to allow her life to be of service to others and considers herself blessed to share the gift of yoga. She is grateful to all her teachers and her beautiful family. Both continue to inspire and teach her daily. Join her on her journey to push the limits and become fearless and flexible both on and off the mat.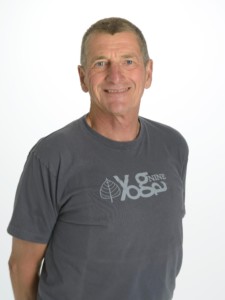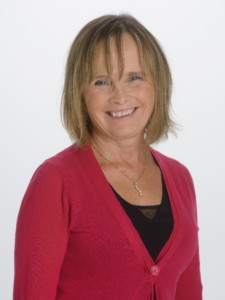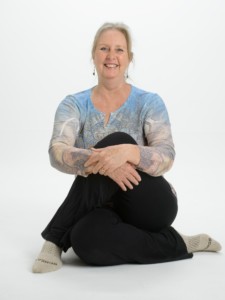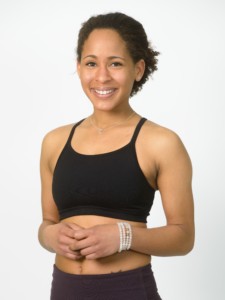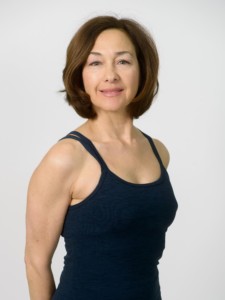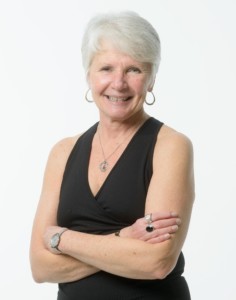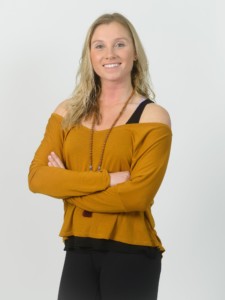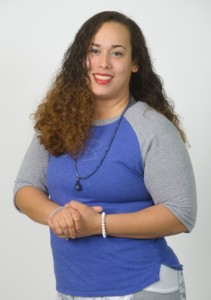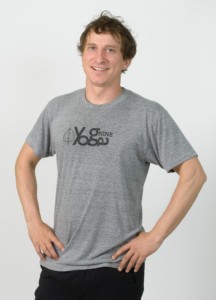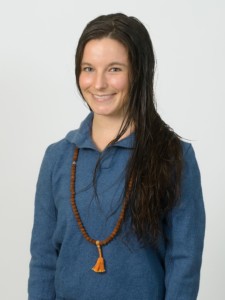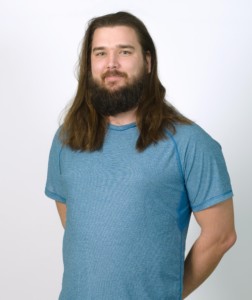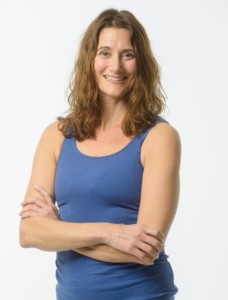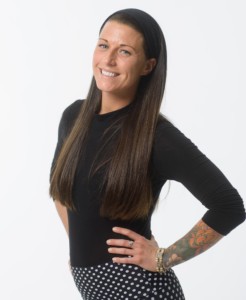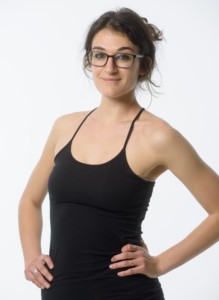 Francesca Carbone-DiCarlo
Emari DiGiorgio, MFA, RYT
Legend has it, Emari's long hair must remain un-cut until she removes the ancient curse placed on her bloodline, and the spell has something to do with aligning her hips in Virabhadrasana I. When she's not sunning herself at the shore or studying yoga with Laurie Greene, she is an Assistant Professor of Writing at Richard Stockton College and a New Jersey State Council on the Arts Poet-in-the-Schools. She is a graduate of New York University's MFA program in poetry and a recipient of a 2007 New Jersey State Council on the Arts Poetry Fellowship. She also teaches a monthly creative writing workshop at the South Jersey chapter of Gilda's Club. Whether she's teaching metaphor or Tadasana, she hopes to create a positive and engaging learning environment, where one emerges with greater understanding and skill, a renewed sense of self, and the confidence to take risks.
Sue Seiter
Sue has been in the fitness industry for over a decade teaching yoga classes and training clients at numerous facilities in Southern Ocean County with a strong background in Yoga and Weight Training. Upon taking her very first yoga class many years ago, she knew teaching health and wellness was something she was going to do for the rest of her life. Sue holds numerous certifications.
She has completed her 200 hour teacher training with Laurie Greene from Yoga Nine. She holds certifications from AFAA and AAAI/IMSA as a level 3 Yoga instructor, personal trainer and group fitness instructor as well as being a Life/Wellness Coach. She is always seeking continuing education credits through attending various workshops and trainings.
Her passion and goals are to help her clients find strength, balance, awareness, and peace on and off the mat through her teachings and trainings. She is forever indebted to her teachers, her students and the many people who share, have shared and will share her journey with her.
Louise Kmosko
My yoga journey began a few years back while looking for healing from an injury and searching for a respite from the rigors of teaching middle school.  I quickly discovered that yoga was so much more and my regular practice eventually led me to a 200 hour teacher training class guided by Laurie Greene as well as all the other generous, expert, wise, and amazing teachers who were a part of that training.  The discoveries continue with every class, whether with the community of winter yogis or with the influx of energy and excitement that arrives each June with the beach loving summer yogis.
My joy in teaching is to share the connection between breath and movement, body and mind, individual and universal energy.  Knowing that every student comes to class at a different point along their yoga and life journey, class is a wonderful place to connect with the energies and challenges that carry us forward.  I am honored to be a part of the Yoga Nine community and am challenged and grateful to continue to learn from both my teachers and my students.
David Nicholas Sirgany
An ardent practioner of Iyengar Yoga for more than twenty-five years, David's depth and passion for the subject shine forth brightly in his teaching. He is an Iyengar certified instructor based in San Francisco and teaches both nationally and internationally.
David has apprenticed under Senior Instructor Manouso Manos since 2000, and continues to travel regularly to India to study directly with the Iyengar family.
Improve your health and wellness today
THROUGH YOGA, MEDITATION AND RELAXATION